RESERVE WINES
2019-01-24T14:24:42
2019-08-01T10:12:27
Soma Vineyard Resort , Nashik
nowfloats
Shiraz Reserve
Dark in color, with aromas of blackberries, spices, smoky bacon
at first on the nose, along with a complex amalgam of fresh herbs
and asparagus, sweet dark berries and molasses lovely palate texture,
with sweet fruited entry, then round and soft before firm tannis
provide balance on the long finish.
Food pairing: the semi dry red wine compliments most slow roasted Tandoori dishes or homemade pizzas.
Serving Temperature: 16 ° C and 18 ° C
Riesling Reserve

Enjoy the Maharashtra state tropical Riesling: the aromatic,
deliciously refreshing wine that tastes like the nectar of apples,
apricots, peaches and pears, usually crisp, due to its high levels
of acidity, Riesling is known for its strong floral and typical petrol aromas.
Food pairing: spice, strong Indian and Asian spices, duck leg.
Serving temperature: 8 ° C to 10 ° C
Chardonnay Reserve
Crafted from our single estate tropical vineyards in Nashik valley,
this is dry wine with medium body reflects a bright golden color,
flavours more towards tropical fruits like pineapple, guava and mango.
Texture can be described as Oily, Creamy, Smooth or Waxy are from a
special kind of fermentation.
Food pairing: Chicken breast, Turkey breast, Pork loin, Halibut, Trout,
Cod, Sturgeon, Oily flaky fish, Atlantic salmon, Lobster, Crab.
Serving temperature: 8 ° C to 10 ° C
Zinfandel Reserve
Ruby red in color with aromas of spicy black pepper and
blackberry bramble with notes of mocha and light toasty oak,
Fruit forward in the mouth with flavours of cassis and fresh
tobacco, the wine is well structured with a lush mid pallet and
round tannis.
Food pairing: base great with barbeque dishes, lamb and red gravies.
Serving Temperature: 16 ° C and 18 ° C
Pinot Noir
Soma vineyard pinot noir in a classic new world style, has pale red berry
(cranberry, raspberry) colors, with up – front fruit and soft tannis.
The medium boiled wine has rich notes of dark cherry, brown spice and clove,
making it a versatile partner to salmon duck or filet mignon.
Serving temperature: 16 °C to 18 °C
Brut Reserve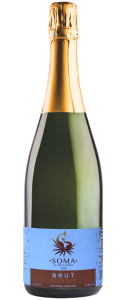 Made from Chenin blanc and Pinot noir cuvve, using the authentic
traditional method. Bottle aged for 1-2 years on less, pear, lemon,
orange zest and citrus with lively crisp acidity.
Food pairing: goes well with as an aperitif and perfectly accompanies with white meats.
Serving temperature: 8 ° C to 10 ° C
Share On: